Netanyahu accuses Europe of 'appeasing' Iran
Source:
The Siasat Daily
Friday, 14 September 2018 05:18
Jerusalem: Israeli Prime Minister Benjamin Netanyahu on Wednesday accused European leaders of "appeasing" Iran instead of confronting its militant activity.
Netanyahu's remarks, made in a cabinet meeting, feed into his ongoing efforts to sway world leaders to join the United States in upping pressure on Israel's arch foe through sanctions.
"The time has come for the world to unite in the fight against terrorist organisations. It is doing so to a certain extent against the Islamic State group, but it is not doing so against Iran," Netanyahu said.
He accused European leaders of "appeasing" and "reconciling" with Iran.
In May, US President Donald Trump withdrew from a nuclear deal between Iran and world powers, before re-imposing a first major round of unilateral sanctions on Tehran in August.
Netanyahu had consistently called for the landmark 2015 accord to be altered or scrapped, saying it was too limited in scope and time-frame, and did nothing to stop Iran financing militant activities in the region.
European powers are seeking to save the nuclear deal and have vowed to keep providing Iran with the economic benefits it received from the accord.
Germany, France and Britain — and other signatories Russia and China — argue that the agreement has worked as intended in keeping Iran from obtaining nuclear weapons for now.
"The appeasement of Iran abets the relentless assault on the values and security of the free societies, and the time has come for Western governments to join the strong and clear effort by the Trump administration against the terror regime in Tehran," Netanyahu said on Wednesday.
Washington has sought to build up multilateral pressure on Iran and has set a November 5 deadline for halting its oil exports.
Source: Agence France-Presse
Pokemon Let's Go release date, trailers and news
Source:
Udaipur Kiran
Friday, 14 September 2018 05:17
Ever since Pokemon was confirmed to be coming to Nintendo Switch during Nintendo's presentation at E3 2017 there have been plenty of rumors around what form the game will take. What most fans didn't expect, however, was for Nintendo and Game Freak to create several Pokemon games for release on Nintendo Switch between 2018 and 2019. You wait a year for one and then…
Rumors around the titles known as Pokemon Let's Go Pikachu and Pokemon Let's Go Eevee were circulating for a few weeks before they were confirmed during a Pokemon press conference in Japan.
Now we know that these titles will launch on November 16 2018 and will integrate features of Pokemon Go into a fully-fledged Pokemon game that's directly inspired by the much-loved Pokemon Yellow. Though they have the look of a mainline Pokemon game, these titles are not, however, the previously confirmed core RPG release, which has been confirmed to be coming in late 2019. 
Instead, they're being used to entice a wider audience – an audience that you'll probably still find playing Pokemon Go – to both the Nintendo Switch and the Pokemon franchise as a whole. 
[Update: A new trailer for Pokemon Let's Go Pikachu and Eevee has shown us the replacement for HMs – now called Secret Techniques. These skills are obtained by the trainer and are only usable by your partner Pokemon – i.e. Eevee or Pikachu – and replace Cut, Surf, Fly, etc… from the original games. This is a neat way to replace moves that took up valuable move slots in the original games while still blocking off parts of the map until later in the game.]
Cut to the chase
What is it? It's hard to say in a succinct way. Pokemon meets Pokemon Go on Nintendo Switch feels like disservice but that'll do it
When can I play it? November 16 2018 
What can I play it on? Nintendo Switch 
Pokemon Let's Go release date
Pokemon Let's Go Eevee and Pokemon Let's Go Pikachu will launch on November 16 on Nintendo Switch. 
Pokemon Let's Go trailers
Pokemon Let's Go hasn't really had a long run of teasers and teasers of teasers. (Thankfully!) Instead, the game had an announcement trailer that was pretty comprehensive in terms of showing in-game footage and explaining what you're going to get. Watch it for yourself below: 
In early July, Nintendo showed off a second trailer for the game that gave us a better look at some of the battle environments and character models of the first two gym leaders, Brock and Misty. It gave us a sneak peek at rideable Pokemon and showed off some of the haircut options available to the two main starters. 
Pokemon Let's Go news and rumors
You'll need to have a Nintendo Online subscription
Nintendo will be launching its paid online service in September 2018 and you'll need to be subscribed to this if you want to battle and trade with other players either over the internet or locally. In a statement to Eurogamer, The Pokemon Company confirmed that "Pokémon: Let's Go, Pikachu! and Pokémon: Let's Go, Eevee! will have online play functionality. Battling and trading with other players over the internet or locally will be available in these games."
These features are a little more limited than previous games as you won't find any GTS, Wonder Trade, or Battle Spot. More details are expected at a later date. 
It's not a core release
We bet you thought the next Pokemon game to be released on Nintendo Switch would be a core RPG release. Well, you were wrong. And so were we. Pokemon Let's Go isn't considered a core release in the Pokemon series. Instead, it's another spin-off, though it's a spin-off that's about as close to the spirit of the mainline releases as it can get. In fact, it's directly inspired by Pokemon Yellow according to Game Freak. 
By integrating Pokemon Go gameplay and features, Pokemon Let's Go feels like Game Freak and Nintendo are creating a bridge for mobile and casual fans to cross into the Switch releases, before the core game is let loose in 2019. It's a sound decision that will ensure a wider audience for both the Nintendo Switch and Pokemon.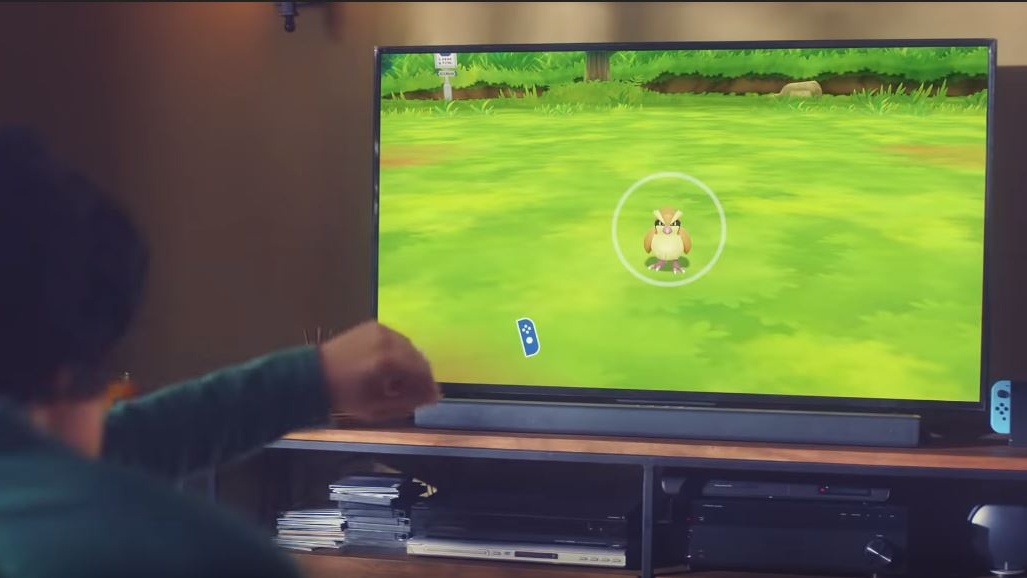 It'll take you back to Kanto
If you've missed the original Pokemon map then you'll be glad to know that Pokemon Let's Go will take you all the way back to Kanto and its original collection of 151 Pokemon, as well as their Alolan forms. 
According to Junichi Masuda, the game is directly inspired by Pokemon Yellow and  "the game world, the overworld, the whole map, is very true to the original Pokémon Yellow games. And also the story kind of sticks to the story beats from Pokémon Yellow."  
Each version will have different Pokemon
In an interview with Eurogamer, Junichi Masuda revealed that the Pokemon Let's Go titles will follow the same path as old games by having different kinds of Pokemon in each version. This is, Masuda says, intended "to really facilitate trading."
Pokemon will be visible in the game world
Just like in Pokemon Yellow, your Pikachu (or Eevee) will be visible in the game world as you walk around. You'll even be able to pet them and interact with them to increase your bond. Wild Pokemon will also be visible in the game world. No more random encounters in the grass, now you'll approach Pokemon and catch them by throwing a PokeBall in a way that's directly inspired by the mobile release Pokemon Go. 
It works with Pokemon Go 
Speaking of Pokemon Go, Pokemon Let's Go will directly work with Niantic's AR hit. It'll be possible to transfer any Pokemon that you or your friends catch while playing Pokemon Go into the Switch game. These Pokemon will go into a Safari Park area where players will be able to go in and interact with them and catch them to add to their party. 
Junichi Masuda has revealed that this trading will be simple process which uses Bluetooth. Players will only have to tap a connection button on their Switch and another in Pokemon Go on their mobile.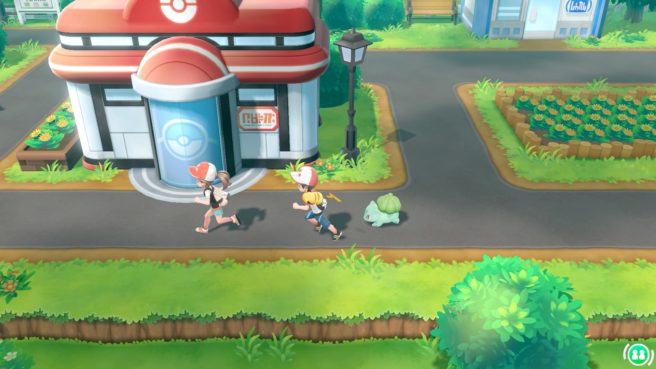 You can play with a friend
One of the things that Pokemon Go was really lacking was a feeling of in-game camaraderie. Sure, in the real world you could meet other players and catch Pokemon together but after these heart-warming encounters there wasn't much you could do together in the game. 
Pokemon Let's Go will take social aspect of Pokemon Go further by allowing you to play drop-in co-op with your friends. They'll be able to pick up the other Joy-Con controller and they'll appear in the game alongside you. Once there you'll be able to catch Pokemon together and battle other trainers.
There's still battling
Although you won't have to fight with individual Pokemon to lower their health and catch them, judging from the trailer there will still be battling in Pokemon Let's Go against other trainers. It looks to be largely similar to the core RPG releases in terms of structure. Team Rocket will be there and everything. 
You can play with one hand and there's a PokeBall accessory
This isn't exactly going to be a difficult title to play – you only need one hand. Using one Joy-Con, you can interact with the game and throw PokeBalls to catch Pokemon.
Or you can purchase an accessory which was announced alongside the game. This PokeBall controller will do everything the Joy-Con can do. Except it's far cooler. Because it's a PokeBall. It'll be released on the same day as the game, though worldwide pricing hasn't been confirmed just yet.
Secret Techniques are replacing HMs
In the most recent Nintendo Direct, we caught our final trailer for Pokemon Let's Go where we finally got a suitable replacement for HMs, called Secret Techniques. These skills are obtained by the trainer and are only usable by your partner Pokemon – i.e. Eevee or Pikachu – and replace Cut, Surf, Fly, etc… from the original games. This is a neat way to replace moves that took up valuable move slots in the original games while still blocking off parts of the map until later in the game.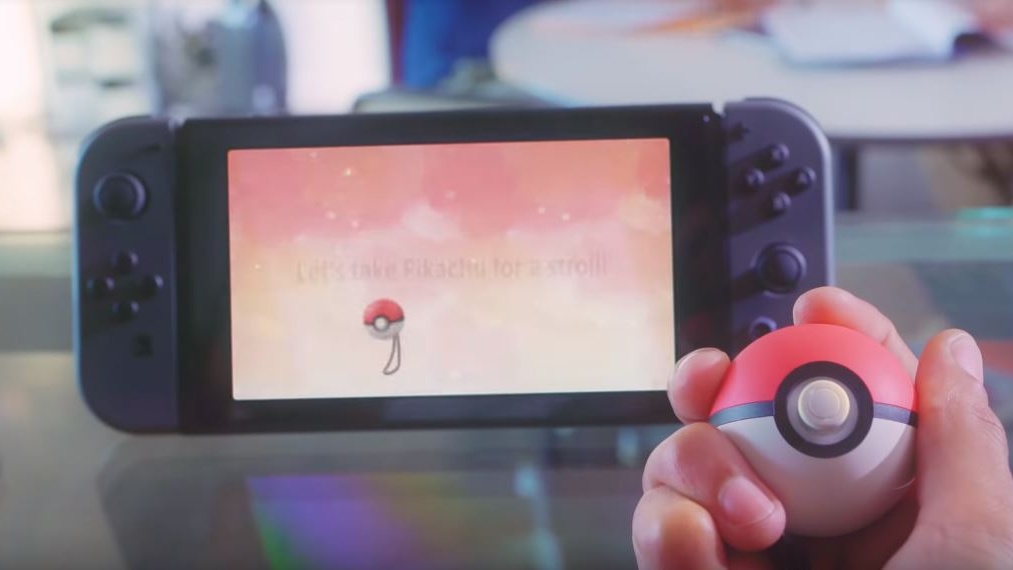 It's deliberately easy to play
For hardcore fans of the game, Pokemon Let's Go may seem like an overly simplified way to play but it's a deliberate decision by Let's Go's developers. With the release of Pokemon Go and the refresh of the anime series, Pokemon is now capturing the attention of a much younger audience that wasn't around for the releases across Nintendo's previous handhelds.
With the first big Pokemon release on the Nintendo Switch, Pokemon director, producer, and composer Junichi Masuda told IGN that he wanted to welcome these new, perhaps more casual and younger, players into the world without intimidating them. 
According to Pokemon Company marketing manager Elvin Gee "Everything about [Pokemon Let's Go Pikachu and Let's Go Eevee], from the controls, to the design, the art, is made so that it's ideal to be your first step into [the Pokemon] franchise."
Something interesting about the PokeBall Plus accessory is that it seems like you can choose a Pokemon to store inside it and take on walks with you. It's possible that this will work like Pokemon Go's buddy feature and walking with your Pokemon will train them and allow them to get stronger. 
source : techradar.com
Super Mario Party release date, news, characters, maps and features
Source:
Udaipur Kiran
Friday, 14 September 2018 05:17
While we expected Nintendo to show up with a handful of new games at E3 2018 – including the coveted and still very much unknown Metroid Prime 4 – Nintendo spent the vast majority of its time talking about Super Smash Bros. Ultimate.
But, right before Nintendo went into a 25-minute spiel announcing every character one-by-one, it announced something even more wonderful than we ever would've imagined: Super Mario Party for Nintendo Switch.
The latest game in the series seems to lean heavily on some of the original N64 games: There'll be four-player competitive mini-games, individual movement, movement-based items and the utter destruction of childhood friendships. 
Here's what we know about the game so far.
[Update: Nintendo has just teased a bit more about our favorite Mario-based party game during a Nintendo Direct Presentation. In it, we learned that there will be character-specific dice blocks, new single-player modes and online integration with Nintendo Switch Online. We'll see the game in action in just a few short weeks when it releases on October 5 2018.]  
Super Mario Party trailers
It's a bit cringe-worthy at parts, but the Super Mario Party trailer shown during E3 does give us an excellent look at what it'll be like to play the game on October 5. Key points from the trailer is four-person multiplayer on a single console, four-person multiplayer on two consoles and the ability to play as Bowser and Goomba.
Check it out for yourself below.
Super Mario Party release date
Nintendo is wasting no time in releasing the next entry in the Mario Party franchise. While it could've very easily waited until next year, Nintendo says you can expect it to come out on October 5 2018. That will put it one month ahead of the new Pokémon Let's Go titles and two months ahead of Super Smash Bros Ultimate that's slated for release in early December. 
What we know so far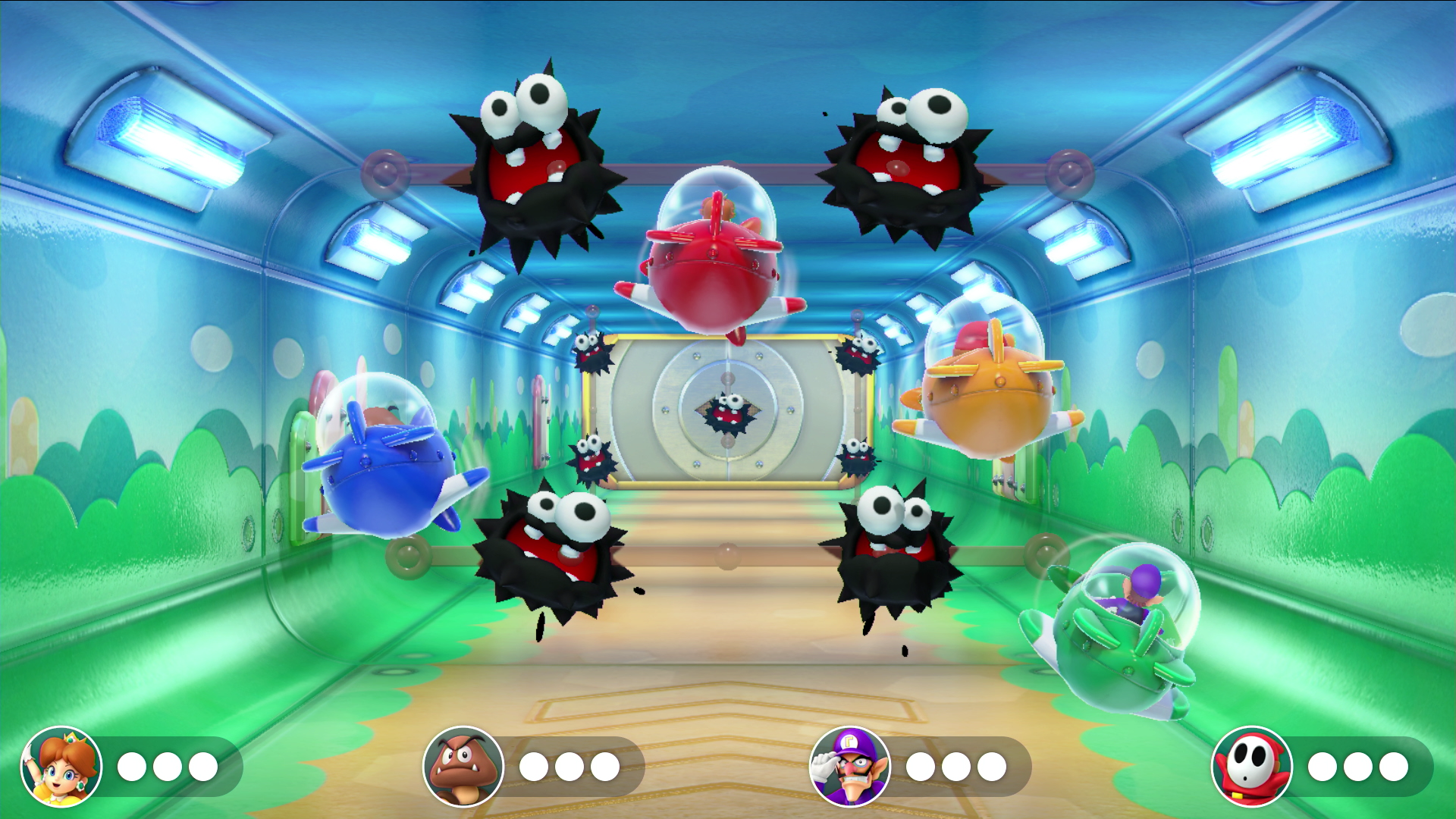 Local four-player multiplayer
Let's be honest, could a Mario Party game exist without four-player local co-op? It could, sure – just look at the 3DS version of the game – but it wouldn't be very good. 
Thankfully, Nintendo isn't going to subject you to passing around the Switch one person at a time and will instead allow you to use four Joy-Cons on the same screen in the traditional board game mode. Ideally you'll be using this in your living room where everyone can see it, but if you do want some additional space because, say, you're at a bar where it's hard to crowd around a little tablet, you can use a second Nintendo Switch in tandem with the first for two-screen, four-player multiplayer … but only in a mode called Toad's Rec Room. 
Does that mean a two-console full-game experience is out of the question? No, but Nintendo has yet to confirm that.
Online multiplayer!
But what if you have a friend who lives far away? Will you be forced to keep that friendship safe and secure? No, says Nintendo! No friendships are safe with Super Mario Party. 
While details are thin at the moment, Super Mario Party will support some form of online play. Likely that will take the form of competitive mini-games and leaderboard rankings rather than full two-hour long sessions over long distances. While this might sound like Nintendo is copping out of a full experience – it makes sense. Nintendo Switch's online infrastructure is still relatively new and should it go down during an hour-long session of Party, players aren't going to be pleased.
Early reports suggest you'll be able to play with both friends and strangers, but there's no word yet on chat support.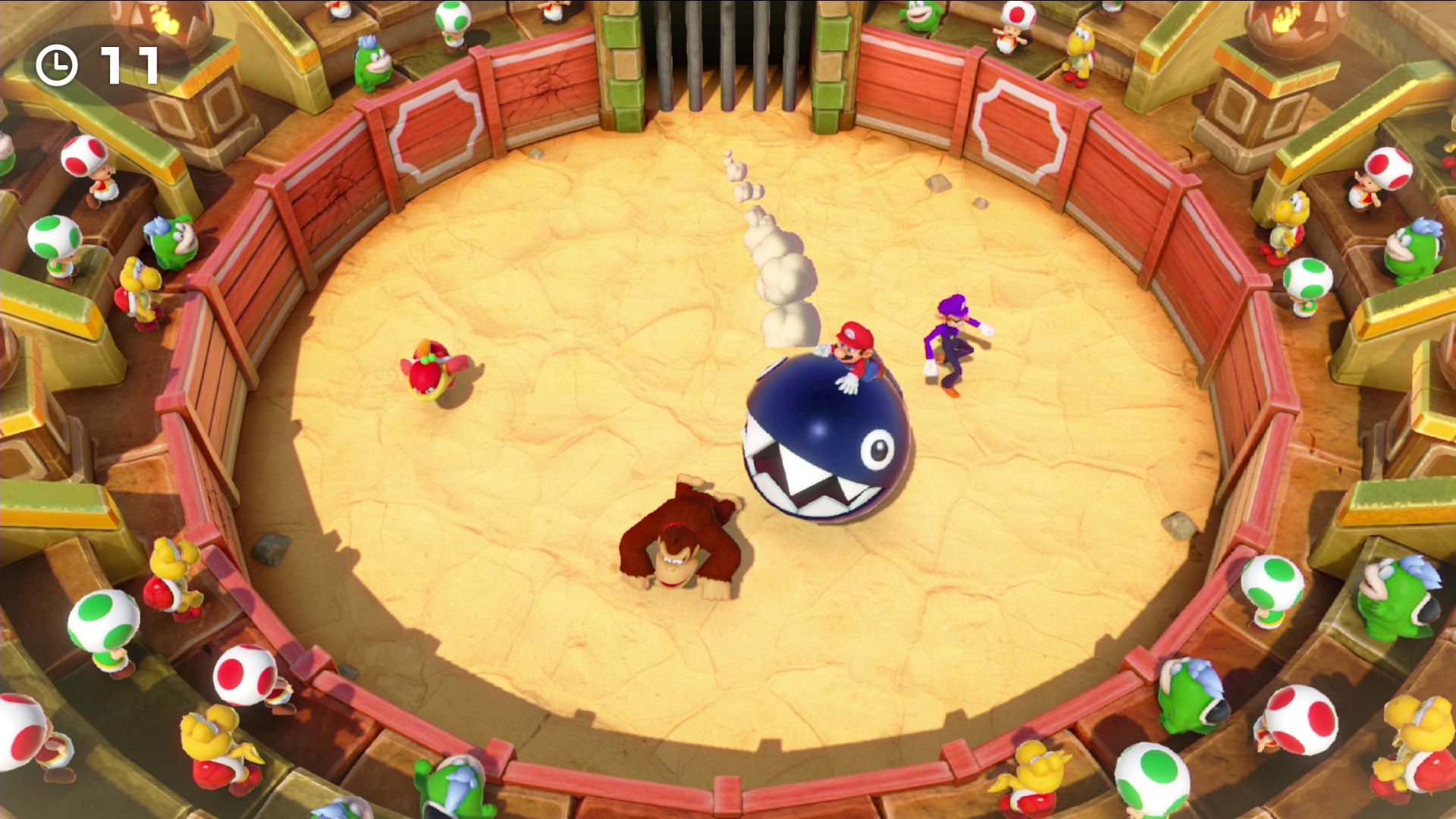 All the mini-games
So far, Nintendo says you can expect Super Mario Party to have 80 new mini-games in most of the categories you're used to seeing in the franchise. There will be free-for-all, two-vs-two and three-vs-one mini-games (as seen in the controller) and potentially the return of the one-vs-cpu and four-vs-cpu games that we've seen in previous entries.
No more cars! 
One of the worst design decisions in recent memory was the switch from players moving around the board individually to a shared car that players take turns driving in Mario Party 9. Said politely, it was a mechanic that was not received very well.
The good news is that Super Mario Party will return to the series' roots with free movement, as well as items that alter movement speed that add a layer of tactical strategy to the game.
Some new characters
In screenshots for the game we can confirm that Mario, Luigi, Daisy, Peach and the rest of the original crew are returning. If you're looking for some new characters, though, you can look forward to playing as Goomba, Bowser, Koopa Troopa, Diddy Kong, Donkey Kong and Waluigi, too.
What we'd like to see from Super Mario Party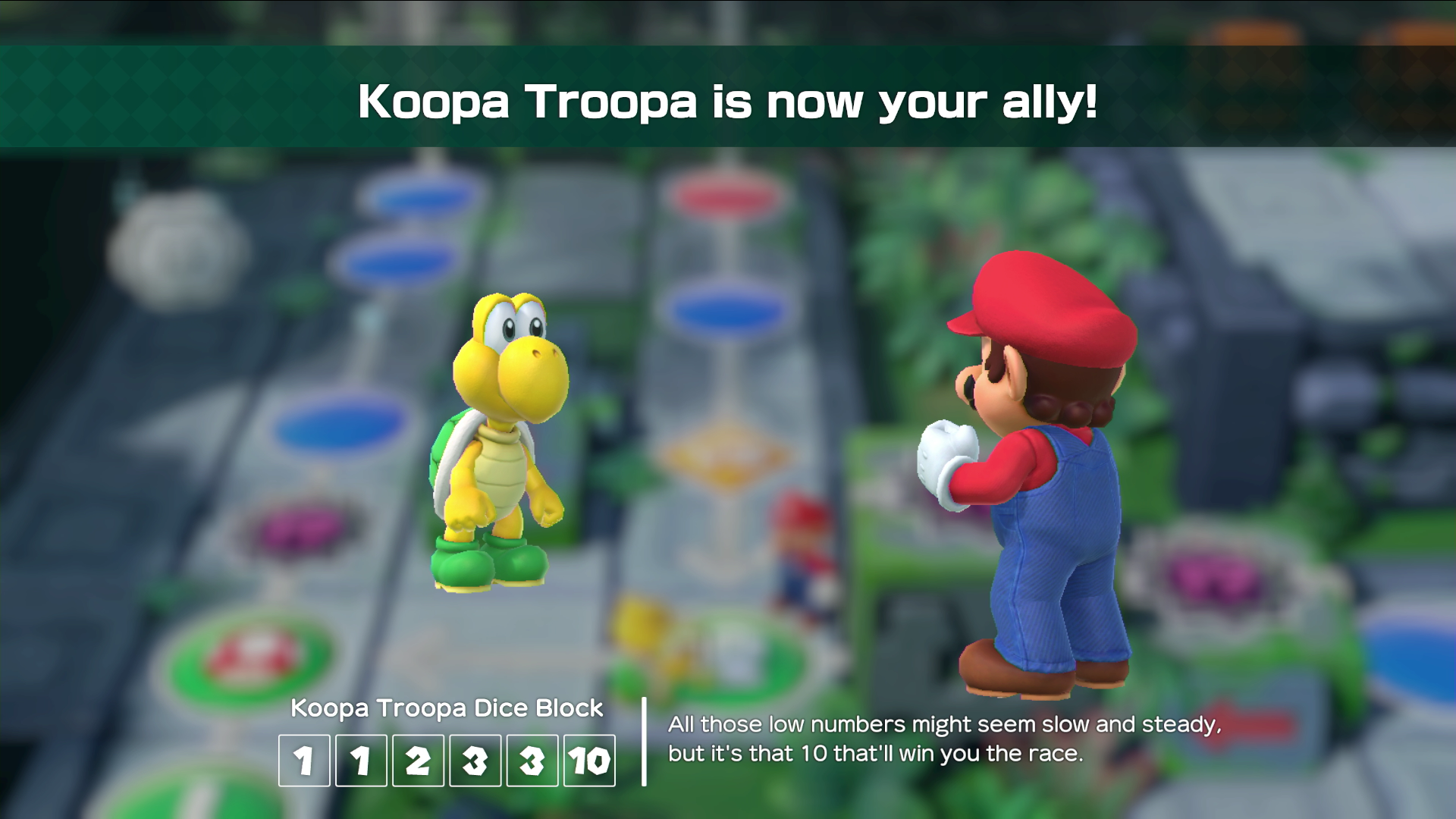 Our friendships making it out in one piece
But let's be honest, that's not going to happen.
More characters and unique level designs
Here's a place where we wish the Mario Party franchise could take a page from Super Smash Bros Ultimate as the latter is set to include every character from every title in the series PLUS new characters like Ridley and Inkling. As much as we love playing as Yoshi or Luigi, Mario Party has had more or less the same cast of characters for the last two decades. 
Similarly, some of the best (and most infuriating) levels in franchise history were the most uniquely designed. Rainbow Dream in Mario Party 5, Woody Woods from Mario Party 3 and Luigi's Engine Room from the original game all had unique personalities and strategies to go alongside them. Boards have the potential to make or break a good Mario Party game, so it'd be wise of Nintendo to put their best designers at work to getting this next set as close to perfect as possible.
E3 is the world's largest exhibition for the games industry, stuffed full of the latest and greatest games, consoles, and gaming hardware. TechRadar is reporting live from Los Angeles all week to bring you the very latest from the show floor. Head to our dedicated E3 2018 hub to see all the new releases, along with TechRadar's world-class analysis and buying advice about the next year in gaming.
source : techradar.com
<< <

Prev

1

2 3 4 5 6 7 8 9 10 Next > >>